Friction Testing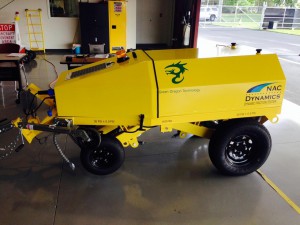 "Friction tests in accordance with FAA AC 150/5320-12, Measurement, Construction, and Maintenance of Skid-Resistant Airport Pavement Surfaces, shall be accomplished on all runway and high-speed taxiways that have received a seal coat. "
Runway Rubber Removal
Paint Removal
Crack Seal
Asphalt Preservation
Runway/Taxiway Marking
WaterBlasting
Whenever a surface such as asphalt, concrete or metal needs to have paint or any coating applied, the surface of the material must be water blasted. Certain coatings are used to protect that concrete or asphalt from rain and salt. Water blasting can be used to prepare these surfaces, or to remove old paint or coatings from the surface to re-coat.
High-pressure water has been used to remove:
Membranes:
Elastomeric
Rubber
Urethane
Hot applied
Water Blasting Removes Paint from:
Highways
Runways
Parking structures
Metal surfaces
Airfield rubber removal
Airports are required to keep certain levels of friction on the landing strips in order to prevent planes from skidding off. Runway design, weather and amount of rubber on the runway all play a role in the level of friction of a landing strip. If too much rubber is present, especially in rainy weather, the friction of the landing strip will be lower requiring more distance for the plane to come to a stop after touching down. Hydrocleaning can be used to remove rubber particles which are peeled off airplane tires as they touch down, and thus restore required friction levels. The level of use (number of landings) determines how often a runway needs to be cleaned. This process of removal is sometimes known as Airfield rubber removal.
2015 Airfield Projects
San Nicholas Island Naval Runway
San Clemente Island Naval Runway
Spanish Fork, Utah Airport Phase III
General Dick Stout Airfield, Utah
Rawlins Municipal Airport, Wyoming
Manti, Utah Airport
Ogden-Hinkley Airport, Utah
Yampa Valley Regional Airport, Colorado
(Full Airfield Services Resume available upon request)
Derby Field Airport, Nevada
Powell Municipal Airport, Wyoming
Afton Lincoln County Municipal Airport, Wyoming
Cheyenne Regional Airport, Wyoming
Jackson Hole Airport, Wyoming
HSC Thermopolis Municipal Airport, Wyoming
Laramie Regional Airport, Wyoming
Pine-Bluffs Municipal Airport, Wyoming
Ralph Wenz Field, Wyoming
Shively Field, Wyoming
Liberty County Airport, Montana
Duchesne Municipal Airport, Utah