Straight Stripe Painting Inc.® is the leader in Southern Utah for installing highway and parking lot signage. Our signs are fabricated with sturdy .080 aluminum and standard (engineer grade) 3M™ brand reflectivity to prolong the life of the sign. We install highway and parking lot signage with strict adherence to MUTCD standards and specifications.
Sign Installation
Parking Lot Signs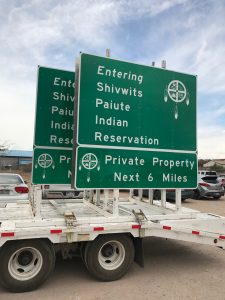 Our signs range from Regulatory Signs, Construction Signs, Parking Signs, Street Name Signs and More! Street and Parking Lot Signs are an easy way to designate parking spaces and areas. Our selection of signs include your standard Parking Lot Sign as well as Designer Parking Lot Signs for added impact and enhanced style in your parking lot or facility area
Wheel Stops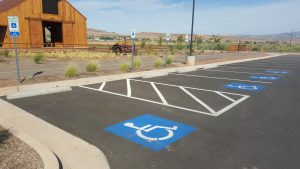 Wheel stops are a safety measure. Our wheel stops are reinforced with two #4 rebars inside for added strength. Our wheel stops are made with two ¾" holes, so they can be pinned and secured. Straight Stripe Painting will deliver and install our wheel stops, as well as, remove the old existing wheel stops. Straight Stripe Painting has many option of wheel stops from concrete to rubber.